After the Crest: Part 1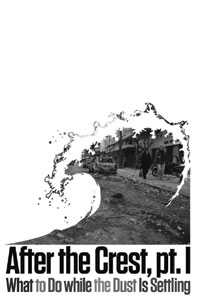 Added to Catalog: 2014
Print Version: Download
This zine was added to our catalog more than 5 years ago. You may want to verify information contained within is still relevant.
This is the introductory piece to a collection of essays by Crimethinc that examine the rise and fall of social movements and how anarchists respond to this phenomenon. It is an important exploration that offers ideas on how to position ourselves in relation to social struggles, how to participate, how to anticipate future struggles, and what to do in the low points between highly visible and broader struggles. The other three zines in the series look at Occupy Oakland, the upheavals in Barcelona from 2010-2012, and the student strike in Montreal.
Excerpt
"Over the past six years, cities around the world have seen peaks of struggle: Athens, London, Barcelona, Cairo, Oakland, Montréal, Istanbul. A decade ago, anarchists would converge from around the world to participate in a single summit protest. Now many have participated in months-long upheavals in their own cities, and more surely loom ahead. But what do we do after the crest? If a single upheaval won't bring down capitalism, we have to ask what matters about these high points— what we hope to get out of them, how they figure in our long-term vision, and how to make the most of the waning period that follows them. This is especially pressing today, when we can be sure that there are more upheavals on the way."
Download
Zines are in PDF format. Choose imposed for printing and reading for reading on your device. The files are hosted on Archive.org, a service that does not log IP addresses.
Share on Social Media

These links are not an endorsement of social media. They are provided for convenience and to help foster the spread of anarchist ideas.