Mob Action Against The State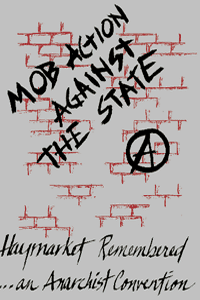 This zine was added to our catalog more than 5 years ago. You may want to verify information contained within is still relevant.
This zine is a reprinted version of a booklet published in 1987 called "Mob Action Against The State: Haymarket Remembered …An Anarchist Convention." It consists of reflections from participants on the 1986 Haymarket Remembered Convention organized in Chicago to coincide with the 100th anniversary of the Haymarket affair. In many ways, the event was an important point in the history of the modern anarchist movement in the United States, leading to a series of national conventions, organizing efforts, and more. It's also an important snapshot of where anarchists were at at the time.
Excerpt
Hosted by the Chicago Anarchist Group, the gathering was attended by 300 to 400 people-- about 2/3 male, mostly white, mostly young, with hardly any oldsters and only a few people over 40. Participants came from all over the U.S. and Canada, with a small number of visitors from outside North America. The gathering consisted of workshops, theater, music, art shows, participation in a May Day march, an anarchist march of our own, a banquet and a memorial gathering at the gravesite of the Haymarket martyrs.
Download
Zines are in PDF format. Choose imposed for printing and reading for reading on your device. The files are hosted on Archive.org, a service that does not log IP addresses.
Share on Social Media

These links are not an endorsement of social media. They are provided for convenience and to help foster the spread of anarchist ideas.