Prologue: A Brief History of Capitalism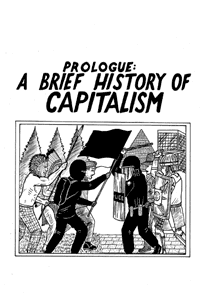 Added to Catalog: 2014
Print Version: Download
This zine was added to our catalog more than 5 years ago. You may want to verify information contained within is still relevant.
This short comic zine is an excerpt from Gord Hill's The Anti-Capitalist Resistance Comic Book: From the WTO to G20. It presents a brief history of the development of capitalism in Europe with the efforts to enslave formerly tribal people's in Europe, the expansion into the Americas, and the development of capitalism on a world scale. It ends in the 1990s with the fall of Communism, the rise of indigenous resistance, and the emergency of Neo-liberalism.
Download
Zines are in PDF format. Choose imposed for printing and reading for reading on your device. The files are hosted on Archive.org, a service that does not log IP addresses.
Share on Social Media

These links are not an endorsement of social media. They are provided for convenience and to help foster the spread of anarchist ideas.