Smashing the Orderly Party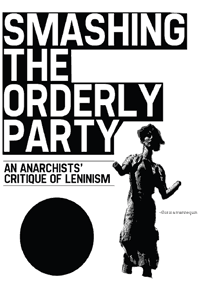 This zine was added to our catalog more than 5 years ago. You may want to verify information contained within is still relevant.
Sub-titled "An Anarchists' Critique of Leninism," this zine does what it sets out to do—presents a critique of the political theory of Leninism. It provides a good overview of why anarchists are against Leninists and the failings of Leninism as a political theory. It covers both historical aspects and contemporary aspects of Leninism. Compared to other texts on the topic it doesn't dwell on history, but rather seeks to show how Leninism both in its historical and contemporary manifestations is an authoritarian and reformist theory that fails to challenge the state and capitalism.
Excerpt
Although we should not back down from critiquing authoritarian socialists, we should recognize their relative weakness in the current context. It can be important for anarchists to establish the autonomous space for anarchy by distancing themselves from the Left.
Download
Zines are in PDF format. Choose imposed for printing and reading for reading on your device. The files are hosted on Archive.org, a service that does not log IP addresses.
Share on Social Media

These links are not an endorsement of social media. They are provided for convenience and to help foster the spread of anarchist ideas.