Yalensky's Fable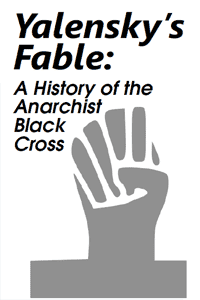 This zine was added to our catalog more than 5 years ago. You may want to verify information contained within is still relevant.
This zine is a reprint of an article by Matthew Hart on the history of the Anarchist Black Cross (ABC). The author traces the history of the Anarchist Black Cross back to the struggle against the Tsar in Russia in the late 19th Century and follows that history into the early 2000s. They talk about the activities of the Anarchist Black Cross in supporting anarchist prisoners at various points in anarchist history and talk about the resurgence of the Anarchist Black Cross in the 1960s. Ultimately, the zine makes the argument that prisoner support is one of anarchists longest ranging commitments.
Excerpt
For close to a century, anarchists have united under the banner of the Anarchist Black Cross for the sole purpose of supporting those comrades imprisoned for their commitment to revolution and to the ideas of anarchism. Who would have suspected that a few men supplying boots, linen, and clothing to deportees in Bialostock would have been the meager beginnings of an organization that has spread throughout the globe?
Download
Zines are in PDF format. Choose imposed for printing and reading for reading on your device. The files are hosted on Archive.org, a service that does not log IP addresses.
Share on Social Media

These links are not an endorsement of social media. They are provided for convenience and to help foster the spread of anarchist ideas.