12 Things to do Instead of Calling the Cops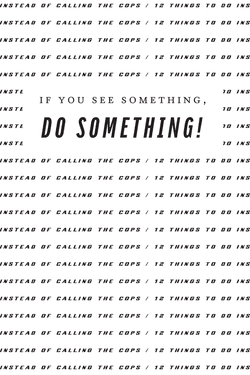 This zine was added to our catalog more than 5 years ago. You may want to verify information contained within is still relevant.
This short zine offers 12 suggestions that people can do instead of calling the cops. They focus a lot on simple things that can be done to avoid having to call the first place such as compiling alternative resource lists for mental health and encouraging people to approach those in they are having issues with rather than getting the state involved in a conflict. Underlying the entire zine is the premise that strong communities can make it possible to handle conflicts without involving the police.
Excerpt
Calling the police often escalates situations, puts people at risk, and leads to violence. Anytime you seek help from the police, you're inviting them into your community and putting people who may already be vulnerable into dangerous situations. Sometimes people feel that calling the police is the only way to deal with problems. But we can build trusted networks of mutual aid that allow us to better handle conflicts ourselves and move toward forms of transformative justice, while keeping police away from our neighborhoods.
Download
Zines are in PDF format. Choose imposed for printing and reading for reading on your device. The files are hosted on Archive.org, a service that does not log IP addresses.
Share on Social Media

These links are not an endorsement of social media. They are provided for convenience and to help foster the spread of anarchist ideas.