Anarchy & Alcohol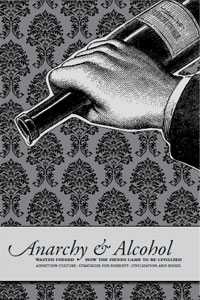 This zine was added to our catalog more than 5 years ago. You may want to verify information contained within is still relevant.
This zine by Crimethinc is a classic examination of the role that alcohol plays in the anarchist space. It features a critique that looks at how alcohol use (and abuse) within the anarchist space fosters apathy, connects with patriarchy, and blunts revolutionary efforts. A second essay looks at the role that alcohol and intoxication has played in the creation of civilization. Highly recommended!
Excerpt
Alcohol, like Prozac and all the other mind-control medications that are making big bucks for Big Brother these days, substitutes symptomatic treatment for cure. It takes away the pain of a dull, drab existence for a few hours at best, then returns it twofold. It not only replaces positive actions which would address the root causes of our despondency – it prevents them, as more energy becomes focused on achieving and recovering from the drunken state. Like the tourism of the worker, drink is a pressure valve that releases tension while maintaining the system that creates it.
Download
Zines are in PDF format. Choose imposed for printing and reading for reading on your device. The files are hosted on Archive.org, a service that does not log IP addresses.
Share on Social Media

These links are not an endorsement of social media. They are provided for convenience and to help foster the spread of anarchist ideas.