Build Your Own Solidarity Network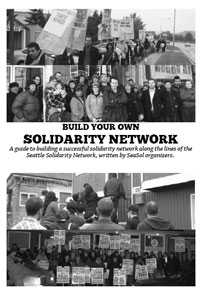 Added to Catalog: 2012
Print Version: Download
This zine was added to our catalog more than 5 years ago. You may want to verify information contained within is still relevant.
This zine looks at the Seattle Solidarity Network—an organization that uses direct action to fight for the specific demands of tenants and workers. It's an interesting approach to anarchist "community organizing" and this zine offers a good overview of how to start such and organization while also delving into some of the strategic rationale that underlies their work. The zine covers everything including how to get started, what tactics seem to work well, how to run meetings, etc.
Download
Zines are in PDF format. Choose imposed for printing and reading for reading on your device. The files are hosted on Archive.org, a service that does not log IP addresses.
Share on Social Media

These links are not an endorsement of social media. They are provided for convenience and to help foster the spread of anarchist ideas.