Dining with Vultures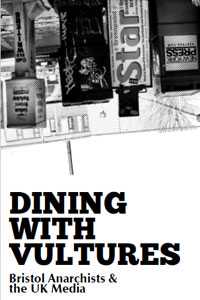 This zine was added to our catalog more than 5 years ago. You may want to verify information contained within is still relevant.
This zine from 2015 looks at recent anarchist engagements with the mass media in the United Kingdom, specifically concerning recent anarchist actions in Bristol. It critiques the way anarchists have engaged with the media and raises questions about the utility of interacting with the media. The zine argues that because mass media cannot—by definition—serve a liberatory process, anarchists should not engage it. The zine uses real examples to make its points, moving beyond being a theoretical meditation.
Excerpt
The purpose of this piece is to better understanding of mass media's relationship to rebels (including anarchists of all stripes), in general as well as in the context of a repressive atmosphere in Bristol. As well as raising local specifics, it hopes to encourage stronger awareness around wider issues of representation and counter-insurgency...
Download
Zines are in PDF format. Choose imposed for printing and reading for reading on your device. The files are hosted on Archive.org, a service that does not log IP addresses.
Share on Social Media

These links are not an endorsement of social media. They are provided for convenience and to help foster the spread of anarchist ideas.