3 Positions Against Prison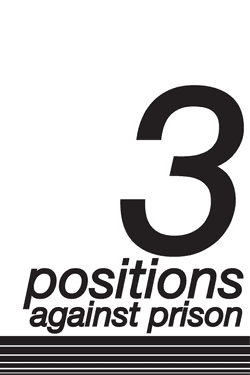 Added to Catalog: 2014
Print Version: Download
This zine was added to our catalog more than 5 years ago. You may want to verify information contained within is still relevant.
This zine offers an excellent critique of prisons, arguing that prison is not just a physical site but also a condition that exists within society. Specifically, it offers a solid analysis of prison abolition, arguing that in seeking to "shrink" the prison industrial complex, abolitionists often end up replacing prison with other less brutal institutions. Consequently, prison doesn't disappear but rather its mechanisms – surveillance, militarization of the police, etc – spread throughout society.
Excerpt
The approaches of innocence and amnesty shouldn't draw a kneejerk criticism, but rather should be placed in the context of the politics from which they are derived--a politics that appeals to those who love the law, and a politics of war between different forms of government. Without passing judgment on the former approaches, let us say that they fit their positions, and then consider our own position. Specifically, we should look again at the distinction between political conflict and social war.
Download
Zines are in PDF format. Choose imposed for printing and reading for reading on your device. The files are hosted on Archive.org, a service that does not log IP addresses.
Share on Social Media

These links are not an endorsement of social media. They are provided for convenience and to help foster the spread of anarchist ideas.