June 11: A History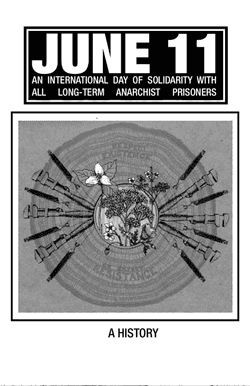 Published:2023
Added to Catalog: 2023
Pages: 16
Size: 8.5 x 5.5
Publisher:

Crimethinc

Print Version: Download
This zine – featuring text by Crimethinc – traces the history of the June 11 Day of Solidarity with Anarchist Prisoners. The day started in 2004 when anarchists held events in solidarity with Jeff "Free" Luers and since that time has involved into a general day of solidarity with anarchist prisoners. It was re-invigorated in 2011 when anarchists and supporters of Marius Mason and Eric McDavid came together to strategize on how to support anarchist facing long prison sentences (both were just a few years into long sentences).
Excerpt
For 13 years, anarchists and environmentalists have observed June 11 as a day of action to mobilize around our imprisoned comrades. Over that time, the pace of revolt has quickened, with so many uprisings, clashes, and anarchist attacks that it is difficult to count all of them—not to mention all the indictments, raids, mass arrests, grand juries, and deaths. In this constantly shifting terrain, it's easy to lose track of the origins of our traditions. Our goal here is to trace a short history of June 11 as a small contribution to the global rhythm of revolt. At the end, we've included a timeline illustrating how many people around the world have contributed to the momentum around June 11. We hope to rescue these actions from oblivion, just as we work throughout each year to ensure that our imprisoned comrades will not be forgotten.
Download
Zines are in PDF format. Choose imposed for printing and reading for reading on your device. The files are hosted on Archive.org, a service that does not log IP addresses.
Share on Social Media

These links are not an endorsement of social media. They are provided for convenience and to help foster the spread of anarchist ideas.