Confidence. Courage. Connection. Trust.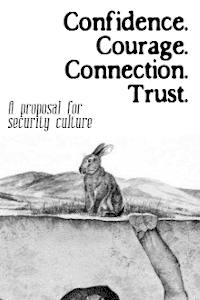 Added to Catalog: 2020
Print Version: Download
Sub-titled "A Proposal for Security Culture" this text is a long and insightful reframing of "security culture," focusing on a shift from fear to confidence, from risk aversion to courage, from isolation to connection, and from suspicion to trust. It is written from the premise that being welcoming and opening to new people is important and that a way to accomplish that end is to implement a strong and shared security culture within anarchist circles. This text includes updated discussions focused on repression in recent years, shifts towards online and digital communication, and refinement of practices.
Excerpt
Security culture refers to a set of practices developed to assess risks, control the flow of information through your networks, and to build solid organizing relationships. There are countless different possible security cultures, but the important thing is that they come from clear, explicit conversations about risk that are ongoing and respond to change.
Download
Zines are in PDF format. Choose imposed for printing and reading for reading on your device. The files are hosted on Archive.org, a service that does not log IP addresses.
Share on Social Media

These links are not an endorsement of social media. They are provided for convenience and to help foster the spread of anarchist ideas.