Doxcare
Prevention and Aftercare for Those Targeted by Doxxing and Political Harassment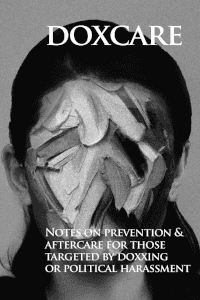 Published:2021
Added to Catalog: 2021
Pages: 20
Size: 8.5 x 5.5
Publisher:

Crimethinc

Print Version: Download
This step-by-step guide explains how to protect yourself from online stalkers, why it is important, and what to do if you are targeted for "doxxing"—the publishing of your private information. In a era of universal surveillance, when livestreamers broadcast every major demonstration while fascists, FBI agents, and police officers comb through social media posts to gather intelligence with which to harass activists, there has never been a better time to take steps to secure your privacy.
Excerpt
Doxxing means publishing a person's private information with the intention of exposing and intimidating them. This can result in physical, emotional, and economic harm to the target. It is intended to dissuade the target from action and to shame them for their ideas and values. It is important to take security seriously before you are doxxed—before you even have reason to fear that you could be doxxed.
Download
Zines are in PDF format. Choose imposed for printing and reading for reading on your device. The files are hosted on Archive.org, a service that does not log IP addresses.
Share on Social Media

These links are not an endorsement of social media. They are provided for convenience and to help foster the spread of anarchist ideas.