Short Circuit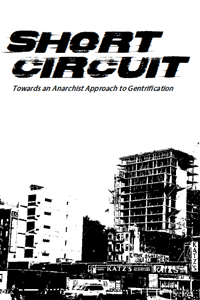 This zine was added to our catalog more than 5 years ago. You may want to verify information contained within is still relevant.
Sub-titled "Towards An Anarchist Approach To Gentrification," this zine is a thorough examination of the topic of gentrification. It provides an overview of academic writing and theorizing on the topic, summarizing considerable research in an easy-to-understand manner. It does a very good job defining gentrification, looking at the economics behind it, and the realities of gentrification. The final section of the zine explores various anarchist anti-gentrification efforts, offering helpful history and insight while even offering some ideas for future directions.
Excerpt
Developing a coherent picture of a phenomenon as complicated and multifaceted as gentrification requires both large-scale and small-scale analysis. We need to be able to both identify what is happening in our communities and link it to what is happening the world over.
Download
Zines are in PDF format. Choose imposed for printing and reading for reading on your device. The files are hosted on Archive.org, a service that does not log IP addresses.
Share on Social Media

These links are not an endorsement of social media. They are provided for convenience and to help foster the spread of anarchist ideas.