New Zines on Herbalism and Direct Action
---
November 28, 2013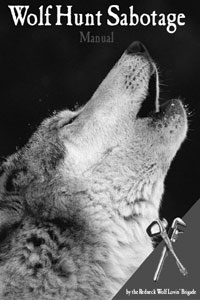 We've added a few new zines to our distro catalog. For the most part, they are zines that we have been tabling with over the past few months but have forgotten to add to the website. They include:
Earth First! Wolf Hunt Sabotage Manual – This comprehensive guide explains the how and why of hunt sabotage aimed at saving wolves. With an increasing number of states (including Michigan) allowing for the hunting of wolves, this zine outlines one response. It's been featured on NPR and other media outlets since its release earlier this year.
Openings: Anarchist Reflections on Occupy Grand Rapids – Openings: Anarchist Reflections on Occupy Grand Rapids is a look back at the Occupy Wall Street phenomenon as it manifested itself in Grand Rapids, Michigan. The zine uses lessons from Occupy to raise larger questions about anarchist action.
Tech Tools for Activism – Tech Tools for Activism is another great zine that provides an introduction to computer security for activists. This zine offers concrete alternatives for corporate and "unsecure" computer technologies including options for email, hosting websites, browsing the Internet, using mobile phones, and free software.
Primitive Toothcare – Subtitled "A DIY Guide to Uncivilized Oral Hygiene" this zine is an exploration of dental care without relying on large corporations or even smaller and unnecessary "green" companies.
An Herbal Medicine-Making Primer – An excellent introduction to making your own herbal medicines with plants that you forage yourself in the wild. It features an essay explaining the importance of making our own medicine and then outlines how to make several different types of herbal medicines.
We're always looking for new zines to carry. If you have any suggestions, please get in touch or leave a comment below.
New Zines on Herbalism and Direct Action was published on November 28, 2013
Share on Social Media

These links are not an endorsement of social media. They are provided for convenience and to help foster the spread of anarchist ideas.